07-July-2019
I ran the Mumbai Half-Marathon in 2015. Though it was not planned, but circumstances landed me with a nomination and by the time I realised, it was too late to back out.
My workplace(Omniactives) had a tie-up with an NGO and they were sponsoring the Dream Run nominations for the Standard Chartered- Mumbai Marathon in 2015. When our HR representative asked for nominations I heartily reciprocated and nominated myself.
I realised only later that the nominations were for the Half-Marathon and not for the Dream Run. It cost Rs. 15,000 per person. I was in a fix as I had never run in any marathon and was in no condition fitness-wise either. This was in September 2014. I discussed this with my colleagues and they advised me to at least participate to the extent that was possible. I may not run for the entire 21.5 Kms. So I spent the entire month of Sep and Oct with this thought, that I have to participate no matter what.
I started going out for morning walks to the MMRDA BKC area starting from Nov 2014. I used to stay on the SCLR during that time and BKC was pretty close. I started by walking for 3 kms each day. It used to take me around 45 minutes all put together. After around two weeks I realised that I needed to do some stretching exercise before starting and cooling down after finishing the walk. Youtube was my guide and I went through a couple of videos to understand the principle and the practice. I extended by walking t 5 kms in one hour everyday by the end of November.
In December I started alternating between slow jog and brisk walk. I used to jog for a minute and then walk for 10 mins. I was able to complete six kms in 60 mins by 15th December. I increased my pace gradually and by the end of December I was doing 10 kms between 90 to 95 mins. I had a very rapid weight loss, I lost around 4 kgs in December itself and I was getting fitter by the day. I started taking days off. So I used to do 10 kms for two days and then walk for 6 kms one day. By this time I was getting the confidence that irrespective of everything I will reach the finishing line. I might take time but I will finish it.
In the first week of January 2015 I went for the first 15 kms run and I repeated this in the second week when I did a 17 kms run. (more like a mix of job and brisk walk).
The run was on 18th Jan and I went for a long run on 15th and was ready for the marathon on Sunday. I collected the bib from the MMRDA ground on Saturday.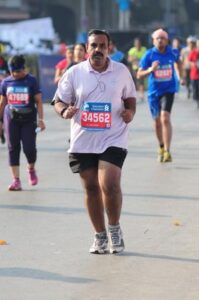 On the morning of 18th, I took a taxi and reached the starting of the Sealink, from where the half-marathon starts. It was around 5:15 in the morning and totally dark. But the crowd of participants was already there and the atmosphere was festive.
The run started sharp at 6:00 AM and it was still dark. I ran for around a km on the sealink and then fell back on my strategy of alternating between brisk walk and jog. I carried on like this till the uphill part which starts from Kemp's Corner. I walked that entire stretch and by the time I completed around 18 kms I was totally drained. But the good Samaritans on road side were encouraging the runners by providing oranges with salt and they tasted really well. I must have helped myself to at least 3-4 oranges this way.
Eventually I finished in just a shade over 3 hours and it was with a great sense of accomplishment.
Sonar Bangla Resort, Taki
»«
Google Sheets Mail Merge : Advanced